When Bushwick based henna artist Natalia Zamparini stepped into the beautiful home of her young clients, she assumed their parents were wealthy—perhaps doctors or lawyers. As she henna tattooed the young girls, she began to ask them questions. When she finally asked what their parents did for a living, she was shocked by their answer—she was in the home of Matthew Broderick and Sarah Jessica Parker.
At that moment, she knew her business had expanded to new heights.
"It's awesome," said Zamparini, 36, shaking her head. "My work spoke to them, and they chose to work with me."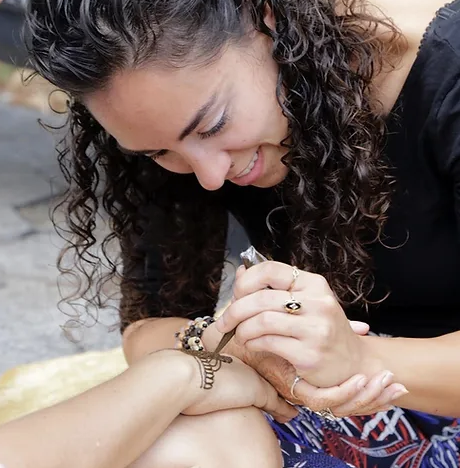 Born in Argentina and raised in Queens, Zamparini's Turkish ancestry and her exposure to Indian, Guyanese, and Trinidadian immigrants introduced her to henna at a young age. However, she didn't know it was her future. Despite attending art school and practicing with friends, she spent several years slogging away at a tedious corporate job before following her calling.
After the loss of her mother, Zamparini started to soul search.
"What am I doing with my time left?" she asked. "I realized art is what makes me happy. I should at least try. And I will die trying."
Zamparini, a bold spirit with a bright smile, dabbled in several artistic endeavors. However, it became apparent that her henna art was attracting a larger customer base. In 2014, she established her business, Henna by Naty.
"I realized," she said, "the reason people are more willing to pay for henna than a canvas is the quality time they get to spend with me while I tattoo them. You're not selling them a canvas. They are the canvas, and I adorn them."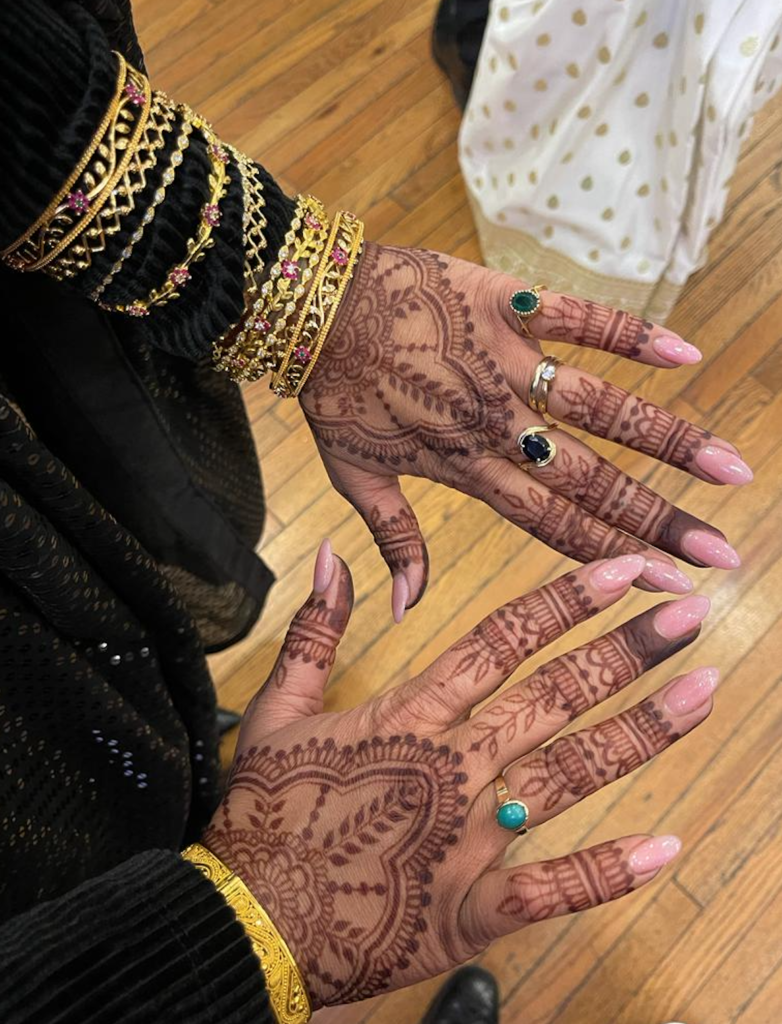 Shama Lakdawala, 33, who received bridal henna from Zamparini, was originally hesitant to receive henna services due to her inability to sit still. She discovered Henna by Naty by chance, and was blown away by Zamparini's professionalism and knowledge.
"I don't think I've ever had such crisp and dark henna," said Lakdawala. "My aunts couldn't get over it either."
She was so pleased by both the henna and her emotional connection with Zamparini that she decided to get a portion of the bridal henna permanently tattooed on her body.
"Naty encouraged my idea to start my own business and truly helped me feel more confident," said Lakdawala. "I'm touched to have a piece of her with me forever."
Puja Thaker, who also received bridal services, described Zamparini's efforts to include a portrait of her Labrador retriever in her henna as true artistry.
"She is welcoming, talented, and culturally sensitive to traditions," said Thaker. "I am still in awe of her work."
Despite her years of research and cultural empathy, Zamparini has faced backlash for working in an industry she doesn't outwardly appear to be a part of. While the henna community is largely supportive, relatives of her clients have expressed dismay at her heritage at cultural events.
"I have compassion for them," said Zamparini. "I deeply understand the pride for one's culture."
However, she takes solace in knowing that her Turkish ancestry still connects her to henna by blood—in fact, a spiritual medium once told her she had done henna before in many lifetimes.
"It was karmic," Zamparini said, smiling wide. "It was so special to find that ancestral connection."
As her business continues to flourish, Zamparini always keeps an eye out for the next opportunity. In addition to henna, Zamparini practices body art with jagua, a darker blue South American gel, and hengua, a mix of the two. She has also picked up an apprenticeship at a local tattoo parlor and continues to host events for clients such as Meta, the MoMA, and more.
"My work is so exciting," she said. "My life is never the same every single day."