British Female Artist: Dua Lipa
British Male Artist: J Hus
British Group: Little Mix
British Album: Dua Lipa 'Future Nostalgia'
International Female Artist: Billie Eilish
International Male Artist: The Weeknd
International Group: HAIM
British Single: Harry Styles, 'Watermelon Sugar'
The Brit Awards on Tuesday night were simply electric. This was no ordinary Tuesday – it marked a momentous day for the UK: the return of live musical performances after such a long time of stars 'Zooming' in. It was also a heartfelt occasion due to the inspired decision to fill the audience with NHS keyworkers, the heroes of the pandemic. The one and only Dua Lipa opened the show with a spectacular medley of 'Future Nostalgia' hits including, 'Don't Start Now,' 'Hallucinate' and 'Pretty Please.' Complete with sizzling choreography, a set resembling a tube station, and a Union Jack blazer, the awards show was off to a dazzling start. This was undoubtedly one of the most exciting performances of the night.
The incredible icon, Taylor Swift, officially became the first female to be named the Brits' Global Icon, an award previously won by David Bowie, Elton John and Robbie Williams. She made an unexpected in-person appearance at the show to give an empowering speech, one of the best lines of which was, "We live in a world where anyone can say anything that they want about you at any time. But just please remember that you have the right to prove them wrong." I love her.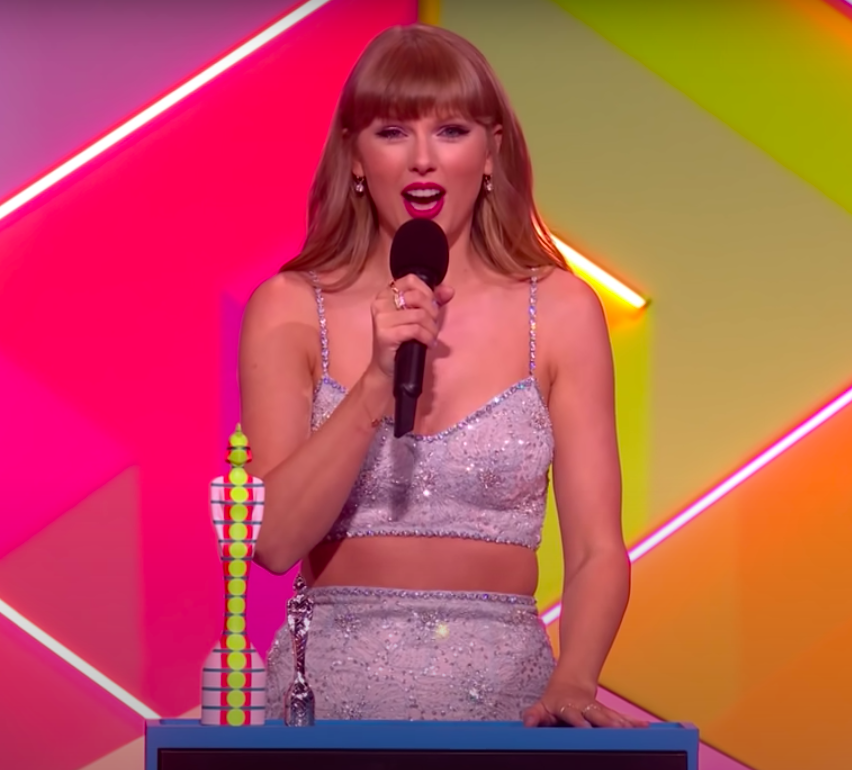 "There might be times when you put your whole heart and soul into something, and you're met with cynicism or skepticism, but you can't let that crush you. You have to let that fuel you. We live in a world where anyone can say anything that they want about you at any time. But just please remember that you have the right to prove them wrong"

Taylor Swift, Brit Awards Speech
Speaking of Swifties, 18-year-old Olivia Rodrigo delivered a beautiful, stripped-back performance of her record-breaking song, 'Drivers License.' I could feel the emotion behind every word she sang. Despite some haters online saying she was pitchy and can't sing – as a Swiftie she knows 'haters gonna hate, hate, hate' – I was blown away by her performance and I am very much looking forward to her debut album, 'Sour' coming out on 21st May.
A major highlight of the night was Elton John and Olly Alexander's phenomenal performance. Olly is best known for his breakthrough role as Ritchie Tozer in the series, 'It's a Sin,' which follows characters living through the HIV/AIDS crisis in the 80's. Olly is such a talented performer, and in my opinion, he stole the show with his confident command of the stage. I will definitely be needing to re-watch 'It's a Sin,' it shares such an important story that everyone should be aware of.
Little Mix was the subject of many of Jack Whitehall's – the host of the evening – jokes due to two out of three of the members' baby bumps. They wowed in white and proved that they are just as strong as a three as they were as a four (former member Jesy Nelson, recently left the girl group). Their powerful speech as the first girl group to ever have won the Group of the Year Award briefly commented on what it is like being a girl band in a white male-dominated industry, foreshadowing Leigh-Anne's insightful, must-watch documentary, 'Race, Pop and Power' which is released tonight.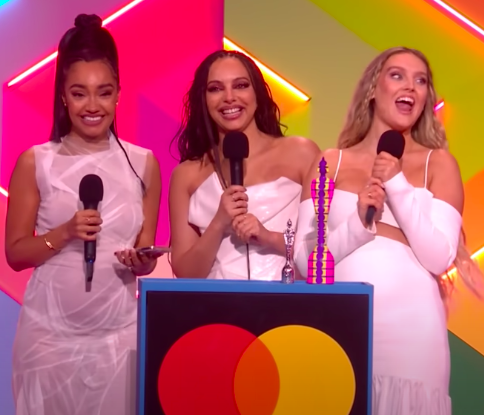 In an amusing turn of events, The Weeknd performed his song, 'Save Your Tears,' from a very rainy location via Zoom, decked out in an anorak and a big floppy hat. He won International Male Solo Artist of the Year – which he deserved after being so majorly snubbed by the Grammys despite his legendary sales for 'Blinding Lights.' Michelle Obama even made a surprise cameo to present him with his award, which made me very happy.
P!nk and Rag 'n' Bone Man's performance of their song, 'Anywhere Away From Here' with the NHS Lewisham and Greenwich choir brought the Brit Awards to a moving end. All in all, it was an energetic and special night with a great range of performances, radiating a sense of joy and hope that the UK is progressing towards the restoration of some normality on its journey towards the easing of Covid-19 restrictions on 21st June.