There is nothing better than those weeks coming up to Christmas. Hot chocolate? Check. Tree? Check. All that's left to do is to start going through those highly anticipated films you wait an entire year to watch.
With everything that has happened this year, I can't think of anything better than taking some time to revisit both classics and contemporary films which are guaranteed to bring a nostalgic smile to your face. Whether you're home alone (pun intended) or with friends and family, if you're in need of a break from 2020 (I know I sure do) then I suggest you spend it watching these holiday films.
12. Home Alone
"This is my house, I have to defend it."
As a child, I'm sure I wasn't the only one who thought about all the things I'd do if I had the house all to myself, wishing that I could eat ice cream for breakfast and watch whatever I want on tv, whenever I want. Home alone brings out that child-like fantasy as it explores the storyline of eight-year-old Kevin, who accidentally gets left behind at home when his family goes on holiday. Although Kevin, at first, enjoys getting into mischief, he also learns to defend his house from two clumsy burglars by creating homemade traps, which adds plenty of laughter to this good-natured classical John Hughes film. Whether you're an 8-year old, hoping to suddenly get left behind on holiday, or a grown-up in the need to feel like a child again, Home Alone brings the entire family together.
Age: PG
Rating: 8/10
Trailer: https://www.youtube.com/watch?v=jEDaVHmw7r4
11. Nativity!
"Sparkle and Shine"
Nativity! is one of those films that makes it incredibly difficult not to like. An uplifting and heartwarming film that provides you with a glimpse into British culture. Martin Freeman plays Paul, a spiritless and strict primary school teacher, entailed with producing the yearly Nativity play, alongside Mr.Poppy, a childish and naive teacher assistant. It may not seem so complicated, but things get a little more complex once they've accidentally lied to the entire village, that Hollywood producer is coming to see a Nativity. Luckily, the film has it all, it's got comedy, it's got the unique selling point (in case you're tired of the same Santa films each year) and it's even got some catchy tunes.
Age: U
Rating: 6/10
Trailer: https://www.youtube.com/watch?v=d_lLpFYdKj8
10. The Christmas Chronicles
"Who can eat millions of cookies in one night and not get fat right?"
The Christmas chronicles received much controversy due to its unconventional plot, however, it can't be denied; the film brings a simply fun and imaginative storyline to life, whilst creating a more modern take on those typical Santa Claus pictures. Netflix's 2018 film emphasizes the magic of Christmas, whilst introducing those comedy conventions which composes the typical family adventure film you'd expect (and want) to see.
The storyline follows two children, Kate and Teddy Pierce, who attempt to catch Santa Claus on Christmas eve, however when their plan goes askew, they end up helping the refreshingly witty and energetic Santa (who is played by none other than Kurt Russell) in order to save the holiday.
Age: PG 12
Rating: 6.5/10
Trailer: https://www.youtube.com/watch?v=YaeDa_Uempk
9. Elf
"I am a cotton-headed ninny muggins!"
Personally, I think Buddy got it all wrong. The truly best way to spread Christmas cheer is to grab some snacks, specifically your four main food groups: candy, candy canes, candy corns and syrup and watch 'Elf'.
Nothing captures the festive spirit like Buddy the Elf, who is guaranteed to put a smile on your face and keep it there for the rest of the film. For an hour and thirty-seven minutes, you can completely forget about your problems, the negativity of the world, and just embrace the whimsicalness and jollity that the film so effortlessly provides. Played by Will Ferell, Elf tells the story of Buddy; a human who grew up as an elf in the North Pole, and his New York adventure, in search for his biological father. Alongside Will, the film stars James Cann, Bob Newhart and Zooey Deschanel… a recipe designed for some good-hearted laughter.
Age: PG
Rating: 9/10
8. Fred Claus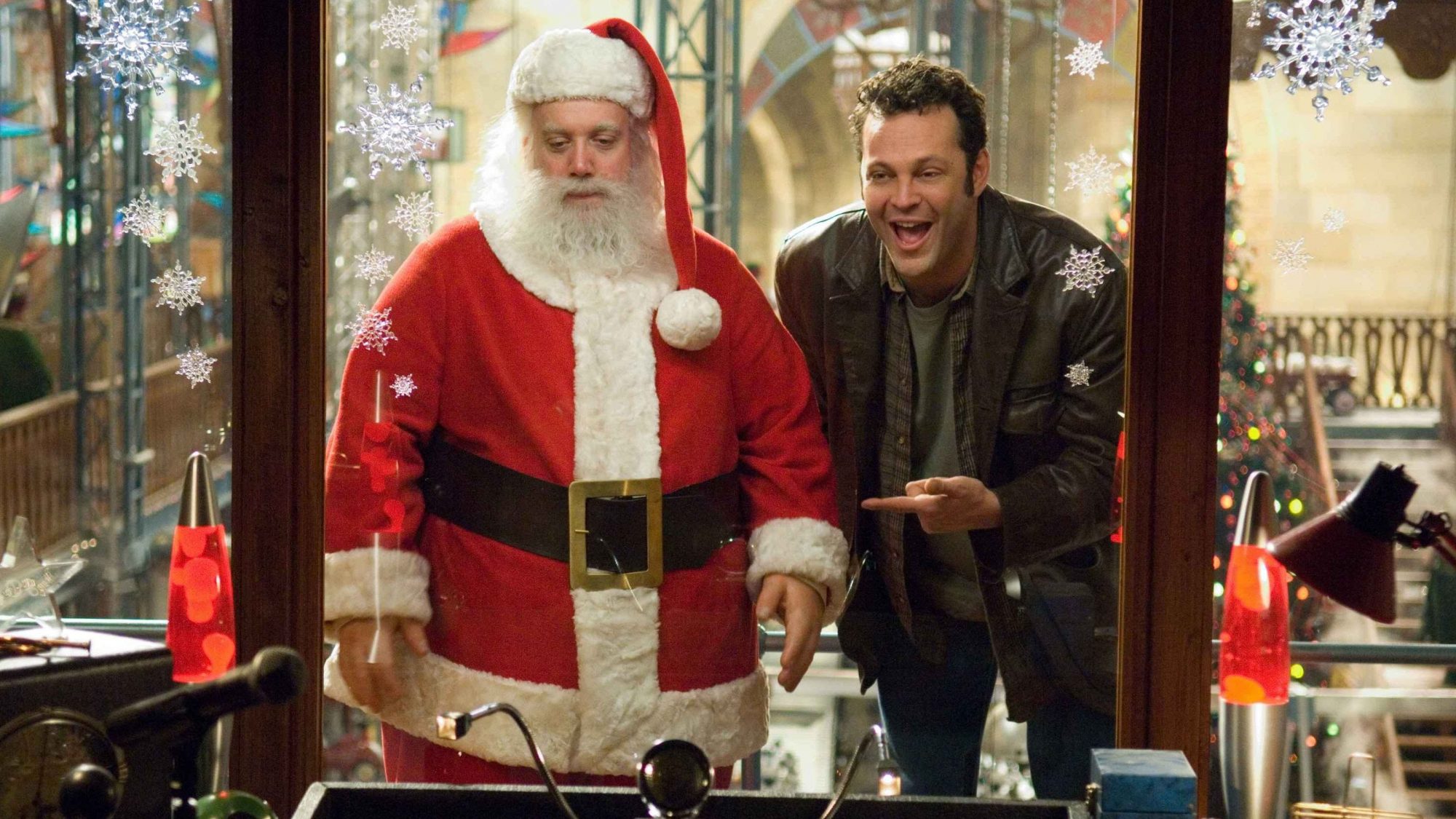 "To think he can fly around to a million houses in one night, breaking and entering"
An entertaining and underrated twist to the 'Santa' genre in which the focus is on Santa's older brother, Fred Claus; a bitter and self-centered guy from Chicago, constantly asking his brother for money. Although slightly cheesy, this film is filled with comical jokes and a rare plotline that emphasises themes of spirit and that all too familiar sibling rivalry. Starring Vince Vaughn, Elizabeth Banks and John Michael Higgins, Fred Claus guarantees a night of glee.
Age: PG
Rating: 6/10
Trailer: https://www.youtube.com/watch?v=VzXjtxZaGS8
7. The Santa Clause
"If something should happen to me, put on my suit; the reindeer will know what to do."
Starring Tim Allen and lots of pointy-eared children, The Santa Clause is a comedic and unique outlook on the beloved and well-known Santa Claus figure, with a twist. The Santa Clause explores the unique storyline of Scott Calvin and his son, who on Christmas Eve, witness a man in a Santa suit fall off their roof. Unknown to him, Scott unintentionally agrees to become the next Santa, taking on the responsibilities that come along with the job.
The Santa Clause holds the essence of merriness and spirit as it not only blends fantasy with reality but also conjures a feeling of magic and joy within anyone who watches it. To top it off, it even answers those sought-after questions regarding how Santa manages to fit through a chimney and travel the world in one night. How could anyone resist that?
Age: U
Rating: 8/10
Trailer: https://www.youtube.com/watch?v=Bx8FX7etF_8
6. Last christmas
" I'm not going to heal my heart and then give it to someone who will break it."
Inspired by George Michael's music, Last Christmas is a fairly contemporary film released in 2019 about Kate, played by Emilia Clarke (Game of Thrones) whose life in London is a mess until she meets Tom (Henry Golding, Crazy Rich Asians) who offers a new perspective on life as she begins to fall for him. Contrary to its title, this film is ideal to watch this Christmas, with its inspiring yet tear-jerking plot, it guarantees some familiar George Michael favourites alongside a romantic comedy aspect…you just gotta have faith.
Age: PG13
Rating: 6/10
Trailer: https://www.youtube.com/watch?v=z9CEIcmWmtA
5. While you were sleeping
"Mister, there's a train coming, and it's fast!"
A warm-hearted and charming film that's perfect for curling up with a blanket and some hot chocolate. This early Sandra Bullock film follows the story of a transit worker, Lucy, who saves Peter, a man she has admired from a distance, from the tracks of an oncoming train. Peter, although alive, gets placed in a coma leading Lucy accidentally telling his entire family that she is his fiancee. However, things become even more complicated once she meets and gets to know his brother, Jack. A simple and sweet romantic comedy set around christmas time in New York, guaranteed to bring you some cheer and comfort.
Age: PG
Rating: 8/10
Trailer: https://www.youtube.com/watch?v=nsJxyUvkB_E
4. Die hard
"Welcome to the party, pal."
Not interested in those conventional typical Christmas films? Tired of those same-old Santa movies? Die Hard has got you covered. Putting the 'yay' into "Yippee-ki-yay", this festive action film goes out with a bang (several of them) as it explores the story of New York City policeman John McClane (Bruce Willis) who visits his family on Christmas eve. However, festivities are put on hold, when a group of terrorists hold people hostage in an office building; including his wife, leading John to rescue them. This classic Hollywood action-packed film is just too good to resist. After all, nothing says Christmas more than explosions, shootouts and witty catchphrases.
Age: 18
Rating: 9/10
Trailer: https://www.youtube.com/watch?v=jaJuwKCmJbY
3. Love Actually
"If you look for it, I've got a sneaky feeling you'll find that love actually is all around."
If you're in the mood for a romantic comedy, with those lively Christmas elements, then Love Actually is the film for you. Love Actually is a classic that surrounds the story of eight different lives who are all in the pursuit of love during the festive season. It's not only sentimental and touching but also showcases an abundance of talent including Hugh Grant, Emma Thompson, Colin Firth and many more familiar faces. This heart-warming film is perfect to bring some light back into your lives this Christmas, as it reminds us of the value of the relationships we have with those that we love.
Age: R
Rating: 9/10
Trailer: https://www.youtube.com/watch?v=H9Z3_ifFheQ
2. Klaus
" We need to show people that a true, selfless act always sparks another."
Even though it only came out to Netflix in 2019, Klaus feels like a classic timeless movie that can be enjoyed by all ages. The sweet and emotional animated film takes on a new approach to the holiday, whilst still managing to incorporate the festive spirit. Klaus delivers a new and alternate Santa origin story, based around a postman who moves to the local town of Smeerensburg, known for its bitterness and resentment. It is there, where he befriends a toymaker, and together, they bring back love and joy into lives. The film is not only touching but also has an old nostalgic feeling to its animation, as alongside the inspiring storytelling, watching Klaus is the perfect way to get you into the festivities this year.
Age: PG
Rating: 9/10
Trailer: https://www.youtube.com/watch?v=taE3PwurhYM
Miracle on 34th street (1994)
"Oh, Christmas isn't just a day, it's a frame of mind"
If all ideas and feelings of Christmas could be condensed into a single film, that film would be called a 'Miracle on 34th street.' The charming, innocent, and feel-good movie oozes a sense of warmth as it portrays the story of a mature six-year old named Susan and her scepticism towards the idea and figure of 'Santa'. However, when the real Santa, who starts working at her mother's department store, enters into their lives, their perspective on life changes for good. By the end of the film, Santa, who is known as Kris Kringle, ends up having to defend his mental stability (Afterall, he claims and believes he's Santa Claus) but with the help of Susan, and the idea of belief in faith and imagination, Christmas and magic is restored.
Miracle on 34th street is such a success, not only due to it's bright and sentimental feel but also due to Richard Attenborough's beautiful representation of Santa, which is arguably, the closest depiction of Saint Nick the film industry has ever seen.
Age: U
Rating: 10/10