San Francisco is a popular city that is flocked by tourists each year. With its wild, vibrant culture, stunning views, and delicious food, it's no wonder that so many people travel to the city year after year. If you're looking for things to do in San Francisco, you won't be disappointed. From exploring the Golden Gate Bridge and the famous Fisherman's Wharf to getting lost in the city's many neighborhoods, there is something for everyone. In this article, I'll explore some of the many exciting activities that you can enjoy while visiting San Francisco. So, get ready to experience the best of the City by the Bay!
Bike Across the Golden Gate Bridge
The Golden Gate Bridge is one of San Francisco's greatest attractions and for good reason! The Golden Gate Bridge is a long suspension bridge that spans across the Golden Gate and when constructed in 1937, it set the world record for the longest bridge span. The Golden Gate Bridge connects the San Francisco Bay to the Pacific Ocean. Because of its large stature, scenic location, and gorgeous orange-red color, the Golden Gate Bridge is the most photographed in the world!
Biking across the Golden Gate Bridge is one of the best things to do in San Francisco on a warm day. Not only will you get some exercise, but you will also get to see the view from the Golden Gate Bridge and the city in the background. Biking across the bridge is simple, you can either join a biking tour or rent bikes and cycle at your own pace.
​When biking across the bridge, you don't need to be concerned about traffic or other cars, since the bridge has designated sidewalks for cyclists. And bikers have toll-free access to the Golden Gate sidewalks 24 hours per day.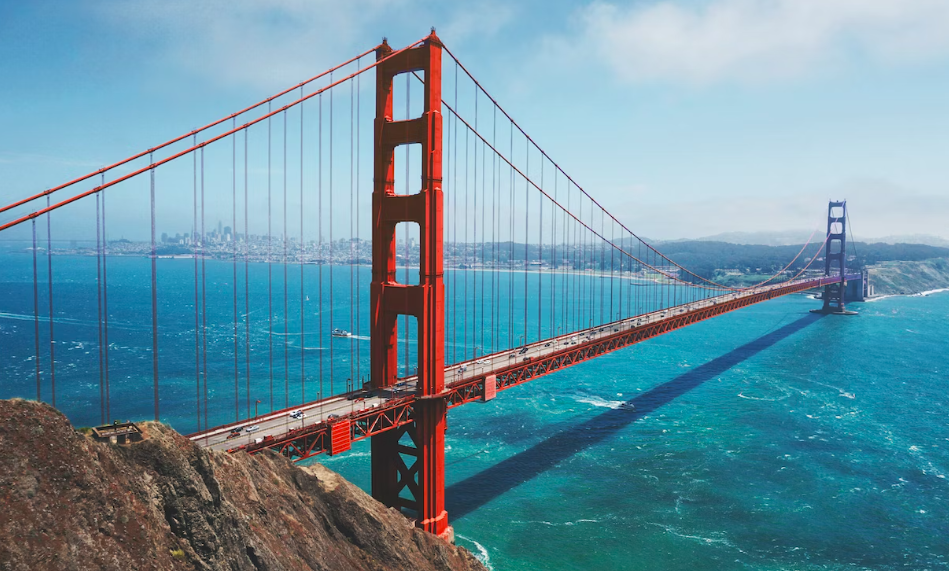 Ride in a Cable Car
San Francisco is known for its cable cars and, in fact, cable cars are a moving landmark in San Francisco. Not only are cable cars a historic feature of San Francisco, but they are a great way to move around the city. Cable cars were invented in San Francisco and they have been around since the first cable car line serviced Clay Street on September 1st, 1873.
When visiting San Francisco, make sure you take a ride on a cable car to experience this way of transportation. Cable cars can take you all around the city and the ticket fares are only $8.00. If you are looking for a new experience and one that you will remember for a lifetime, then definitely consider riding on a cable car.
Eat World-Famous Sundaes in Ghirardelli Square
Ghirardelli's chocolate ice cream sundaes are renowned in San Francisco. Located near the water in Ghirardelli Square, you can find the most famous ice cream sundaes in San Francisco. Ghirardelli Square is a landmark public square in San Francisco's Fisherman's Wharf district. It is located at the corner of Beach and Larkin Streets and it is home to shops, restaurants, and the Ghirardelli Chocolate Company. It was once the home of the Ghirardelli Chocolate Factory which closed in 1998.
Once at Ghirardelli Square, you should enter the Ghirardelli store via the "Soda Fountain Entrance." When you're inside you will find a wide display of chocolate goodies and a large dessert menu. The most famous menu option is the "World Famous Hot Fudge Sundae."
When eaten in the shop, this delicious sundae is served in a large glass goblet, that lets you peak at all the layers of chocolate and ice cream. This $15.00 sundae is a very large size, so it's perfect for sharing with friends or family members. The sundae comes with two layers of hot fudge and two layers of vanilla ice cream. It's topped with a perfect dollop of silky whipped cream, almonds, and a maraschino cherry. If you are looking for a sweet treat in San Francisco, then this dessert will be perfect for you!
Browse the SF MOMA
New York City isn't the only city with a Museum of Modern Art (or MOMA), San Francisco has a MOMA, too! The San Francisco Museum of Modern Art is a modern and contemporary art museum located in downtown San Francisco. It has an extensive collection of over 33,000 works of modern and contemporary art, including painting, sculpture, photography, architecture, design, and media arts. SFMOMA also offers a wide variety of educational programs and events, as well as visiting exhibitions.
If you are visiting San Francisco, you should go check out the SF MOMA because it offers a unique experience that showcases some of the most exciting and innovative art of our time. It's also a great way to learn about the history of modern and contemporary art and gain a better understanding of the San Francisco Bay Area. Plus, this museum has a well-stocked gift shop and cute cafe, making it a perfect place to spend a day exploring art and culture. If you are visiting the SF MOMA then don't forget to explore the Museum of African Diaspora which is right next door!
Visit Sea Lions at Pier 39
Believe it or not, San Francisco has a diverse array of wildlife. From parrots to Great White sharks, San Francisco has it all, including sea lions! Located at Pier 39 in Fisherman's Wharf is a large colony of Sea Lions that have made their home on the docks of Pier 39 in San Francisco since the late 1980s. They are a popular attraction for visitors, who come to watch and take photos of the sea lions. The sea lion colony is free to view and open to the public year-round.
If you are looking to experience some wildlife in San Francisco, then make sure you check out the San Francisco Sea Lions at Pier 39. Here you can witness the sea lions' playful behavior, as well as their unique habits. Many of the sea lions can be seen sunbathing on the docks, and you can also spot them swimming and playing in the waters of the Bay. Additionally, you can learn more about these animals from educational signs located around the docks.
Visiting the sea lions at Pier 39 is a great way to observe wildlife in its natural habitat and get a close-up view of some of San Francisco's most iconic animals. It is also a unique and memorable experience that can be enjoyed by visitors of all ages.
Take Photos at Twin Peaks
Twin Peaks is a well-known San Francisco attraction because it provides you with the perfect view of the entire city! The Twin Peaks of San Francisco are two of the city's most iconic and recognizable landmarks. Located in the heart of the city, the two hills offer magnificent views of downtown San Francisco, the Bay, and the Golden Gate Bridge. The views are especially breathtaking at night when the city is illuminated by the bright lights of downtown. If you are visiting San Francisco, then you should go to Twin Peaks to enjoy the breathtaking views, explore the nearby trails, and appreciate the unique architecture of the city.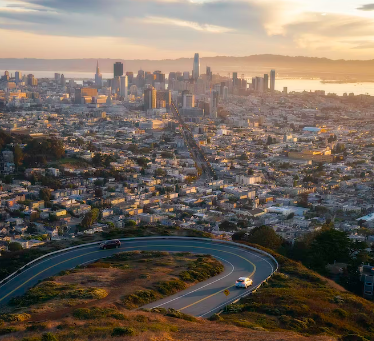 Listen to the Wave Organ
Many people don't know about the Wave Organ, but it shouldn't be missed. This unique spot in San Francisco utilizes nature to create a symphony of sound for the listener. The SF Wave Organ is an acoustic sculpture located on a jetty in San Francisco's Marina district. It consists of 25 pipe organ-like structures made of concrete, marble, and granite, which use the action of the waves to produce sound.
The Wave Organ is a unique and interesting sight for tourists to visit, as it is an interactive sound sculpture that allows visitors to observe natural phenomena as it produces its music. It is also a great place to relax and take in the view of the bay.
Tour Alcatraz Island
Alcatraz Island is one of San Francisco's most iconic landmarks. Alcatraz was a federal prison located on an island in San Francisco Bay, California. It operated from 1934 to 1963, but it is now a popular tourist attraction. Alcatraz was known for its harsh conditions and its notoriety as the prison for some of the most notorious criminals in the United States, including Al Capone.
You should go to Alcatraz to explore its infamous history, experience its unique setting, and learn more about the inmates who served time in the prison. The site offers a variety of tours, audio tours, and programs to educate visitors on the prison's history, as well as a variety of special events. It is a great way to learn about some of the creepy elements of San Francisco's history. Plus, to get to the island, you travel by boat, which can be a fun way to see the Golden Gate Bridge and enjoy a warm day.
Stroll Down Haight Street
The funniest and brightest street in San Francisco is Haight Street. Haight Street is a famous street located in San Francisco, California. It is known for its bohemian and hippie culture, with many vintage clothing stores, thrift stores, and independent boutiques. It is also home to a wide range of restaurants, cafés, bars, and music venues. The street is also home to the famous Haight-Ashbury district, which is the epicenter of the 1960s counterculture movement since the hippie movement started on this street.
It is one of the most iconic streets in San Francisco and is a popular tourist destination. If you are in San Francisco then you need to go to Haight Street to experience the unique and vibrant culture that it has to offer. They can explore the various stores and restaurants, take in the lively atmosphere, and enjoy the iconic views of the city.
Fun Fact: The street signs in this neighborhood are higher than normal since they kept getting stolen!
Check out the Painted Ladies
The Painted Ladies are a series of Victorian and Edwardian houses in San Francisco, California. Located on Steiner Street in the Alamo Square neighborhood of San Francisco, California, these beautiful homes are a great way to see the classic San Francisco architecture.
The houses are painted in three or more colors that accentuate their architectural details. They are often referred to as the "Postcard Row" of San Francisco and are considered one of the city's most iconic images. When in San Francisco, you must come to adore these beautiful houses and take photos of the San Francisco landscape behind them.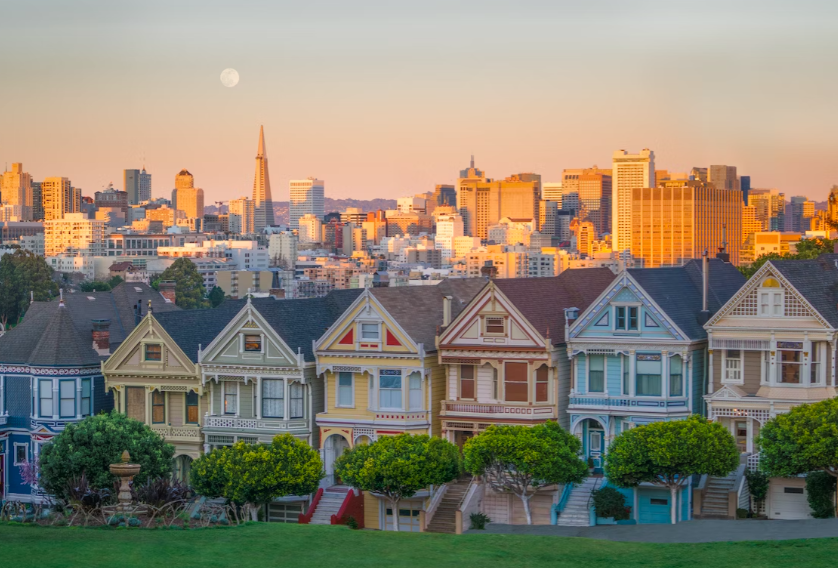 San Francisco is one of the most beloved cities in the United States of America, because of the fun people, spectacular views, and countless activities. Whether you are looking to explore art and architecture at either the Painted Ladies or the SF MOMA, or you are wanting to have a dessert in classic Ghirardelli Square, there is something for everyone!