As a born and raised West Coaster, I consider myself somewhat of a coffee snob. Pacific Northwest coffee culture is truly unmatched, and the jarring shift as I moved to New York City was almost tangible. The first few months I was here I struggled to find a coffeeshop that I loved as much as my local hometown shop – but on a cold, snowy January day, I took a chance on the Blank Street Coffee on 7th ave and 13th street. I wasn't loving or hating it, but it was better than a lot of places I've tried.
The coffee itself is okay in taste, deep and somewhat smoky, unlike the cheap or burnt tasting espresso I've had at many New York City coffee chains. It's cheaper than big names like Starbucks, and they've got a great rewards system I'd urge you to take advantage of.
Downloading the app has been a great financial asset to me – you can recommend friends for three free drinks, and they have a points system similar to Starbucks stars where ordering five drinks gives you one free one. Each drink is ten points no matter the cost of the drink or add-ons, so I like to use my points to cash in on more expensive drinks I wouldn't normally spend on.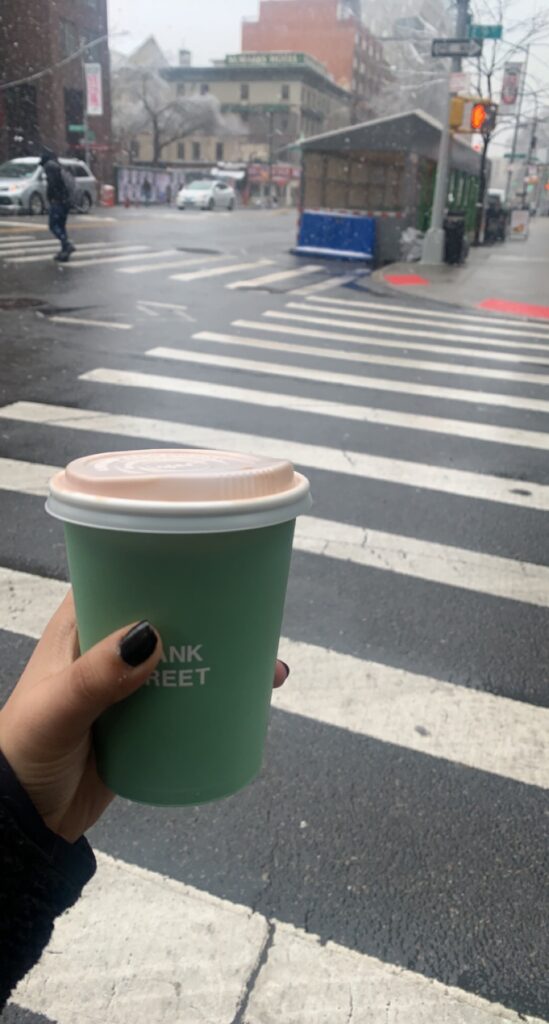 The baristas themselves are extremely friendly and understanding – I once ordered a drink to the wrong location and they couldn't have been nicer about it, making it for me despite my careless mistake.
I'm currently loving the S'mores Latte – it's a seasonal drink and probably won't be in stores for much longer, so I'd recommend you to try it while you can. It's pretty sweet for a coffee drink, which I usually don't like, but I enjoy it like a hot chocolate on days I'm craving something sweet.
Personally, I wish the stores I've been to (3rd and 9th, 7th and 13th), had a sit-in option as that's how I usually like to enjoy my morning coffee – but the store mainly operates out of street side carts or small pick up shops, so their mission doesn't exactly align with what I look for in a coffee shop. The coffee tastes ok, and it's good to know they're not cashing in on quality for the sake of cheapness.
Free promo code: Download the Blank Street app and use code FD5154 for three free coffees/drinks.